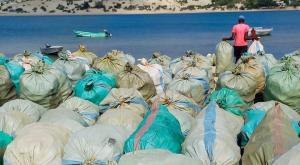 Solid Waste Management
Area of interest
At present, there is no waste management system across the county. Waste is dumped at unsuitable holding areas and either moved on to a larger landfill site or openly burnt. Both landfilling and open burning pose a significant threat to local ecology and human health.
As the population of Lamu County grows alongside its reliance on single-use plastics, the waste problem within Lamu is only expected to worsen. It is all too common to see piles of waste throughout the archipelago with no end solution.  
However, as much of the waste is recyclable there are opportunities for value addition industries that can help to support communities as well as restore their surrounding environments. There is also space for advocacy and education projects to reduce the overall consumption of single-use products.
LEF is interested in supporting these kinds of projects to reduce waste, improve community livelihoods and restore environments.