Grants
Solid Waste Management
Kijitoni Dump Site REVAMP and Tree Planting
KES 2,100,000 awarded
Project Length – 12 Months
Problem Statement
Shela village has only one dumpsite where all the waste is taken to. This site – Kijitoni – is managed by self-help group Shela Environmental Residents Group (SERG) and is funded solely by donations. For many years, waste has been taken to this site and dumped to either be burnt or eaten by donkeys and other livestock. However, as the population has grown and more waste is generated it is now clear that the current site is no longer fit for purpose. 
The way the site is currently managed is leading to negative impacts on the environment, health, and quality of life of nearby communities. Overflowing landfills and dumpsites pose significant environmental risks, including increased emissions of greenhouse gases, and an increased risk of pollution of soil and water, while the health risks to communities include higher rates of cancer and respiratory illnesses. Additionally, the current waste management and disposal process fails to create economic opportunities for communities and promote a circular economy.  
Therefore, the challenge is to transform waste management and disposal in Shela into a sustainable and efficient system that protects the environment and health while creating economic opportunities for communities and promoting a circular economy. 
Project Summary
The project implemented by SERG aims to upgrade and create a waste resource centre at the Kijitoni Dumpsite in Shela. This project, implemented in partnership with Collective Sovereignty Community-Based Organization (CSCBO) and Earth Love Ltd, aims to address the increasing amounts of waste, including single-use plastics, that pose major challenges to the environment. 
SERG, with over 20 years of experience in waste collection, will lead the project and dumpsite improvements while CSCBO and Earth Love Ltd will provide technical advice and guidance on the tree planting aspect. The project will involve clearing the dumpsite of decades of ash from waste that has been burnt, carefully tree planting on top of this waste around the dumpsite to neutralise the ash and eventually provide natural shade for the dumpsite. After this, the dump site will have significant improvements made including bringing water to site and zoning the site to set up a waste sorting and resource recovery centre. 
After this has been done the waste can, be sorted and transported to relevant groups that are able to recycle and reuse the waste.  
Through this project, we hope to contribute to a cleaner and healthier environment by reducing the amount of waste that ends up in landfills and promoting recycling. Once completed, this site will become a pilot for other dumpsites across the county where SERG can share their experiences and illustrate a more sustainable way of managing waste than simply throwing and burning.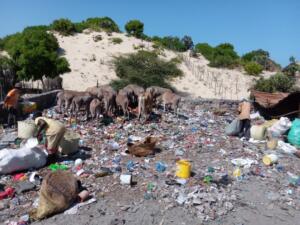 Objective
The objective of the project is to upgrade the Shela Kijitoni dumping site on Lamu Island, Kenya, into a waste sorting and resource recovery centre. This will address the increasing amounts of waste and make the dumpsite fit for purpose. 
Specific Outcomes
Reduction of environmental pollution in the Shella community due to the proper disposal of waste and removal of toxic substances.

 
Improved sanitation and public health in the community due to the reduction of waste-related diseases.

 
Increased availability of green spaces due to the planting of trees, providing residents with a cleaner and healthier environment.

 
Improved quality of air in the Shella community due to the planting of trees

and elimination of

burnin

g waste

.

 
Reduction in soil erosion due to the planting of trees and implementation of erosion control measures.

 
Creation of jobs and employment opportunities during the revamp and construction phase of the project.

 
Enhanced infrastructure in the Shella community, including upgraded waste management facilities.

 
About the Organisation
SERG is a Community Self-Help Group that was registered in 2000 to clean Shella village on Lamu Island and collect rubbish from house to house. They have grown from a small informal initiative known as 'Clean Shella' in the mid-1990s to become an indispensable organization that keeps the village clean. In 2022 they were a part of the Fanya Safi Waste Coalition where they collaborated with Takataka Heroes and Manda Taka Project to streamline waste collections and encourage recycling. 
Due to their experience and expertise in waste collection, SERG has a great understanding of the best ways to deal with waste and is best placed to become a beacon of knowledge when the project is complete.