Grants
Solid Waste Management
Usafi Mtaani – Clean Streets
KES 2,962,100 awarded
Project Length – 10 months
Problem Statement
One of the primary problems in Lamu is the absence of a proper waste management system. Household waste is often thrown on the streets, resulting in scattered waste throughout the island. This unorganised and unsustainable waste disposal approach leads to significant environmental degradation.
A contributing factor to this problem is the lack of waste containers. Without proper containers, waste is simply dumped on doorsteps and ends up littering the streets. Donkeys, which roam freely in the area, are attracted to these disposed materials and use them as feeding grounds. However, they selectively consume only what is edible, leaving the rest to pollute the environment further.
Another significant concern is the absence of a policy on waste management practices. The County government has not provided any guidelines or regulations to ensure environmentally friendly waste disposal. Without a guiding policy, there is no framework in place to address the issues related to waste management effectively. 
This haphazard disposal poses significant health and environmental risks as materials do not decompose and become breeding grounds for disease vectors such as mosquitoes. Furthermore, existing solutions to waste management including burning waste and inadequate landfilling exacerbate the problem, resulting in increased greenhouse gas emissions.
To address these pressing challenges, the Usafi Mtaani Project aims to implement sustainable waste management practices in Lamu Island. The project seeks to establish an organised waste collection system, providing households with appropriate waste containers and raising importance on the importance of proper waste management.
Moreover, the Usafi Mtaani Project will advocate for the development of waste management policies at the County level. By working closely with local authorities, the project aims to establish guidelines and regulations that promote environmentally friendly waste disposal practices, ensuring the long-term sustainability.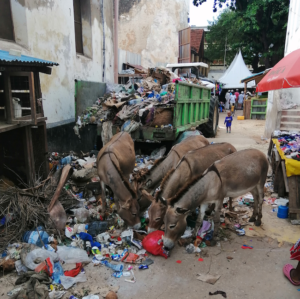 Project Summary
The Usafi Mtaani Project, initiated by the Lamu Arts and Theatre Alliance, aims to improve waste management in Lamu Island. Comprising Community Outreach and Research and Development of a waste management system. In the first part, research will be undertaken to understand the current state of waste management, including quantities and types of waste materials generated. Then through theatre, the project will engage with communities, village elders and chiefs to incorporate byelaws and raise community awareness.  
In part two, the project targets 500 households in the old town for waste collection, sorting, and onward recycling. By implementing these initiatives, the project aims to reduce environmental impacts and identify sustainable recycling and reuse methods for a cleaner and healthier Lamu Island. 
Objective
The Usafi Mtaani Project is driven by the vision of creating a sustainable and clean environment on Lamu Island. By promoting community engagement, raising awareness, conducting research, and developing tailored waste management strategies, the project aims to address the environmental challenges caused by improper waste disposal. Through its comprehensive approach and collaboration with local stakeholders, the project aspires to foster a community-driven movement for sustainable waste management, leading to improved environmental health, enhanced quality of life, and a brighter future for Lamu Island.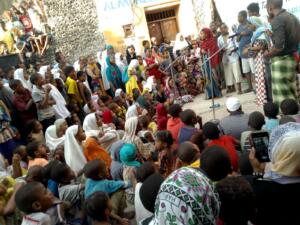 Specific Outcome
The project will achieve the following outcomes during the project period: 
In depth research and stakeholder consultation to understand the current waste management situation in Lamu Town

 

The creation of a theatre production to entertain, engage and educate communities on the importance of proper waste management

 

The creation and implementation of byelaws within the target communities to ensure that everyone follows the new regulations

 

Delivery of bins to households and training given to begin door to door collections

 
About the Organisation
Lamu Arts and Theatre Alliance (LATA) is a community-based organization located in Lamu County, Kenya. Our core objective is to promote the arts in the community, encompassing theatre, dance, music, media, fine arts, and writing. We firmly believe in the transformative power of the arts as a tool for social change and community development.  
LATA are focused on finding sustainable solutions to the challenges faced by the community. They work closely with local communities and stakeholders to understand their needs and develop projects that have a lasting impact. Over the years, LATA has embarked on numerous initiatives aimed at improving the quality of life for our community. One of our most successful projects was the clean environment project in Hima Pate, which received funding from the Lamu Environment Foundation (LEF). With a grant amount of 5 million Kenya shillings, we engaged the Pate community in cleaning up the environment and raising awareness about the importance of a clean and healthy ecosystem. Through this project, we were able to foster behaviour change among community members, encouraging them to take responsibility for their surroundings. 
Read more about LATA on their Instagram Page