Grants
Solid Waste Management
Bahari Moja – Kiunga Reserve Cleanup and Plastic Recycling
KES 1,700,000 awarded
Project Length – 12 Months
 We're very excited to announce this project has been supported by Depeche Mode and Hublot through the Memento Mori Tour charity partnership! 
The partnership has chosen to support projects that tackle plastic pollution. And in this round of funding alone, 7 projects have been supported across 7 countries to foundations within the Conservation Collective network. 
Problem Statement
Plastic pollution is a global problem, approximately 7 billion of the 9.2 billion Tonnes of plastic produced from 1950-2017 became plastic waste, ending up in landfills or dumped elsewhere. 
In Lamu, plastic pollution is affecting mangrove forests by smothering new seedlings stopping them from growing, limiting turtle nesting sites as plastic debris litters beaches, posing significant health risks as dumping sites attract mosquitoes and other disease vectors, and restricting the income of fisher folk as plastic pollution is becoming more prevalent than fish. 
At present, there is no waste management system across the county. Waste is dumped at unsuitable holding areas and either moved on to a larger landfill site, openly burnt, or in the worst-case scenarios dumped on beaches and into the ocean.  
However, in Lamu, we are not only dealing with plastic waste created from local communities, but also plastic debris washed up on our shores. Communities in remote coastal locations are often inundated with plastic waste that has not been created by them or even within the country, instead it is a mix of international waste that is brough to these shores through the ever-shifting currents. 
Kiunga Community Conservancy (KICOWA), has been involved in beach cleanups for many years. Their cleanups serve an important role in removing plastic waste and marine litter from the beaches, but there is still no permanent solution to disposing of the waste once collected. 
In Kiunga Marine Reserve areas – where KICOWA works – there has been a decline in the number of turtle nesting sites. Though through their previous work of cleaning up turtle nesting beaches, KICOWA have seen an 46% increase in nesting sites by sea turtles in 2022 compared to 2021.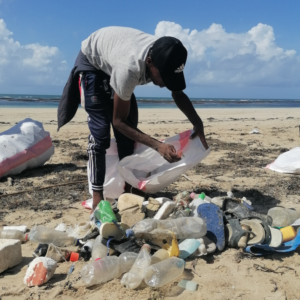 Project Summary
KICOWA are working at a hyper local level to tackle the global problem of plastic pollution and are finding innovative ways to deal with waste that washes up on their shores from the international community. 
In 2019, they started an 'integrated ocean trash, plastic recycling and waste management project' in Mkokoni village with the following components: 
Collection of marine litter and plastic waste from beaches

 

Creating community awareness on plastic waste management and the impact on public health

 

Establishment of plastic collection, sorting and processing facilities

 

Establishment of women's enterprise initiative through production of 'eco-bricks' for construction and other recycled plastic products

 

Establishment of integrated waste management systems for villages, within NRT-based coastal conservancies, with effective and hygienic sorting and disposal of rubbish

 
The funding awarded by LEF will contribute to the overall project in the following ways: 
Strengthening the Integrated Waste Management System
Supporting 3 large scale beach collections with at least 80 volunteers.

 

Weekly clean ups in Mkokoni village.

 

Staff to sort the waste that has been collected.

 

Transport hard plastics and other waste to market partners to generate some income for the group to sustain their activities.

 

Support the women's eco-brick and handicraft income generation enterprise to promote local recycling.

 
Environmental and Conservation Awareness
The taskforce at each clean-up will be made up of at least 60 community volunteers and 20 students. The clean-ups will act as an awareness raising exercise among women, youth, fishermen, local leaders, educational institutions, the tourism and hospitality industry, local government and leaders to sensitise them on the issues at hand and their role in addressing them.

 

4 interactive sessions will be held in village primary schools, (Mkokoni, Kiwayu, Kiunga, Ishakani) inviting children to write essays on their understanding and proposed solutions to the problem and hold a competition among the primary schools to see who can collect the most marine litter.

 

Design, print and distribute leaflets on marine litter and waste management to solicit support from the tourism and hospitality industry.

 

Develop website to share information on activities with relevant stakeholders

 

Design, print banners/stickers to support events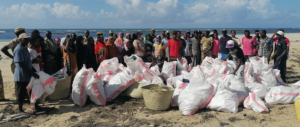 Objectives
By engaging women, youth and those impacted by the effects of litter washing up on the fragile coastline plus the lack of institutional waste management systems the project aims to engage, empower and improve livelihoods in this remote region.  
The collection, sorting and conversion of materials into saleable products such as eco-bricks, crafts, HDPE, PET and flip-flops as raw materials for external markets create a circular economy whilst improving human and environmental health. 
Outcomes
Increased turtle nesting sites.

 

Encouraging people to have a greater appreciation of the natural world and its value.

 

Encouraging governments, public institutions and media to act in ways that support the natural world.

 

Encouraging changes in public/consumer behaviour to better preserve, protect, and regenerate the natural world.

 

Reduced waste/better waste management.

 
About the Organisation
KICOWA is a community initiative led by 200 women and 60 youth that have been working since 2018 to improve the management of marine litter and plastic in coastal beaches and marine ecosystems. KICOWAs goals include; reducing plastic pollution in the marine and terrestrial environment, reducing litter, improving waste management and developing income-generating activities linked to plastic recycling.  
KICOWAs core values are: Professionalism, Learning, Accountability and transparency, Sustainability, Teamwork, Innovation and creativity, Communication and Solution oriented (PLASTICS). 
You can learn more about KICOWA and the Bahari Moja project here: https://www.instagram.com/baharimoja/