Grants
Land Regeneration and Restoration
Permaculture Course in Kipungani Village
KES 1,150,000 awarded
Project Length – 1 Month.
Problem Statement
Kipungani Village, in Lamu Archipeilago is facing challenges that are exacerbating poverty among women who are actively engaged in farming and negatively affecting the environment. These challenges include an increase in low-income populations, water scarcity, desertification, drought, and the salinization of wells due to climate change and rising sea levels. In addition, the lack of knowledge and skills on sustainable agricultural practices is leading to the degradation of the land and environment, making it difficult for the community to sustainably meet its basic needs. These factors have led to a cycle of poverty and malnutrition that is not only affecting the health and well-being of the community, but also hindering economic and social progress. It is therefore crucial to address these challenges by providing the necessary skills and knowledge to the community members, particularly women, to improve their agricultural practices, increase food security, and promote sustainable living. 
Project Summary
The project aims to improve the lives of low-income populations in Kipungani village, with a focus on women involved in farming. Earth Love LTD will implement the project by training 20 community members, including 17 women and 3 men, in permaculture methods. The 2 week practical permaculture design course will cover designing farming spaces, natural farming practices, waste management, ethical business practices, value addition, and circular economy. 
The project will include theoretical lessons and practical training taking place in Kipungani, field trips across Lamu Islandto inspire and showcase what is possible, and the setup of 20 permaculture home gardens. 
The intention of the project is to empower the community with the knowledge and skills to become multipliers of sustainable agriculture practices. This will ensure access to nutritious food and a sustainable way of living while conserving the environment. The project will also encourage ethical business practices and promote a circular economy.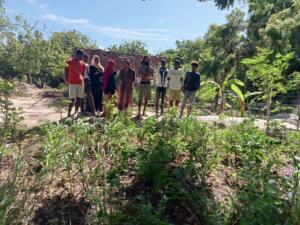 Objective
The main objective of the Practical Permaculture Design Course is to empower community members, particularly women, with advanced knowledge and practical skills in permaculture principles and techniques, which they can use to improve their own livelihoods and share with their communities, while conserving the environment.
Specific Outcomes
Training 20 community members (17 women and 3 men) in permaculture methods, including designing farming spaces, natural farming practices, waste management, ethical business practices, value addition, and circular economy.

 
Establishing 20 permaculture home gardens that utilize sustainable farming practices, promote biodiversity, and provide access to nutritious food for the community, with a particular focus on women involved in farming.

 

Creating a community of sustainable agriculture practitioners who will serve as multipliers of knowledge and skills in the community, promoting sustainable farming practices and empowering the community to become self-sufficient.

 

Planting trees and establishing a reforestation program to reduce deforestation and improve the ecosystem, leading to increased rainfall and improved water sources for the community.

 

Encouraging ethical business practices and promoting a circular economy, where waste is reduced and repurposed to minimize environmental impact and create new economic opportunities.

 
About the Organization
Earth Love Ltd is an environmentally friendly company that focuses on land regeneration, community empowerment, reforestation, waste management, and health & wellness, using permaculture principles. To achieve this,they established a permaculture food forest in Shela village, which was formerly an informal dumping ground. They have also worked on reforestation and community empowerment in Kakamega Rainforest since 2019.In 2022 Earth Love were awarded a grant and executed two practical permaculture design courses in May and June 2022 for 17 individuals recruited from across Lamu Island.  The courses were designed specifically for the Island and included theoretical lessons and practical classes at the neighbouring regeneration site and demonstration farm of Earth Love. Participants also had the opportunity to visit sites outside of the farm to inspire and showcase what is possible. Recently, Earth Love completed phase one of the Permaculture Home Gardens program and officially started working with SERG (Shela Environmental Residents Group) to turn organic waste into compost.