LEF's Visit to the Bahari Moja Project
Bahari Moja kicked off their LEF sponsored activities on World Environment Day on June 5th. They held a massive clean up on Kiwayu Beach where they collected 1.46 tonnes of plastic. So far the weekly village cleanups have collected a further 300kgs of plastic. This project sponsored by the Conservation Collective partnership with Depeche Mode and Hublot aims to strengthen the integrated waste management system in Mkokoni and continue environmental and conservation awareness among the community. 
They had originally planned for 3 large cleanups and regular village cleanups. However, as they saved some money from the first clean up, they will be adding a further clean up on World Clean Up Day in September! 
Early in July, our ED made the trip to remote Mkokoni village, 35 miles up the coast from Amu Island, read on to find out what went on! 
After an early start to beat the tides, we set off on the 2-hour speed boat ride to Mkokoni. We went through the Kililana channel, past the new LAPSSET port, past Pate and Ndau Islands, over a very rough patch of sea and through mangrove channels to finally reach our destination.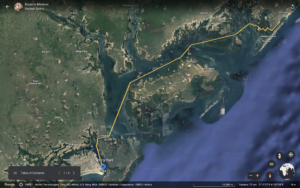 We just had time to set our bags down before we rushed to Kiwayu Safari Beach with Amina Shali – the Bahari Moja project manager to watch a turtle hatching! The beach is a hotspot for sea turtles to come and nest, but also serves as a reserve beach for Kenya Wildlife Service (KWS) and Bahari Moja (BM) to move turtle nests to when eggs have been laid on unsafe beaches. Among some communities in Lamu, turtle eggs are considered a delicacy so are sought out and poached for sale. To mitigate this, KWS and BM do regular patrols to see where turtles have laid their eggs and to move any out of danger. 
At the nest site, we met with Harold a KWS ranger and 'Mama Casa' – casa means turtle in Kiswahili. a volunteer for BM who walks Kiwayu Safari Beach daily to monitor any turtle nesting's and collect any beach rubbish as she goes.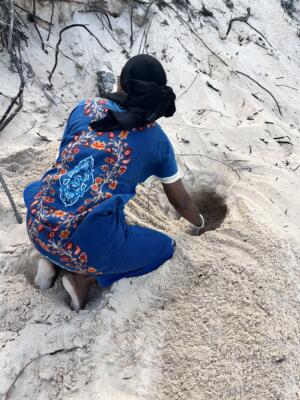 A total of 106 turtles hatched and made their way to the Indian Ocean. We helped to ensure the way was clear of debris including natural and plastic waste. If there are too many obstacles in the way, the turtles can get confused and not make it all the way to the ocean. This is just one way that keeping the beaches clean helps to increase sea turtle numbers in the ocean.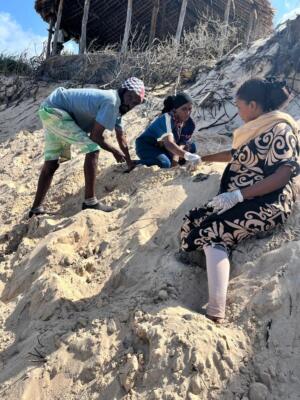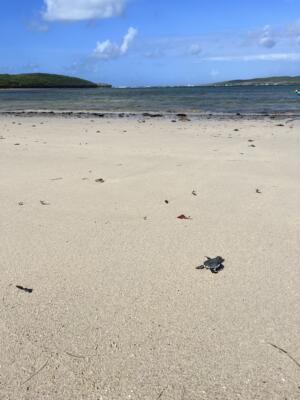 On the way back to our boat, we did a small clean up picking up anything that 'doesn't belong on the beach' as Amina said. This is just one of the many informal beach cleanups the community of Mkokoni do regularly. Amina said that every time they're on the beach for a turtle nesting or hatching they'll always take gunia (sacks) to collect waste on the beach. This is in stark contrast to most places in Lamu where communities only take part in organised cleanups where there is some incentive for them to do so. It was a breath of fresh air to see fishermen appear on the beach to help us collect plastic waste and finally to see a large pile of full gunia ready to take back to the BM sorting site. We then saved the project the need of hiring a boat and filled up our speed boat with the 25 or so gunia – I can't say how happy the captain was about this…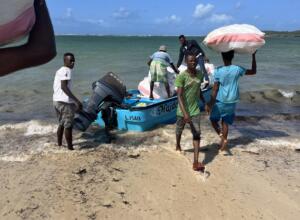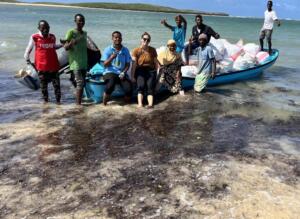 We followed the gunias to the BM sorting site, where we met with the women who work to sort the plastics and others who use materials collected to make eco-bricks from empty plastic bottles stuffed full of waste or house decorations and jewellery from the thousands of flipflops that are washed ashore. Neither of these tasks are easy, both take a long time and need a lot of patience. There is a small market for the eco bricks locally as they can be used to make baraza (benches), toilet blocks and walls. There is a smaller market for the jewellery, but Amina is hoping to find funds for the ladies to do training with Ocean Sole and other organisations for them to improve their skills and create high quality products that can be sold far and wide.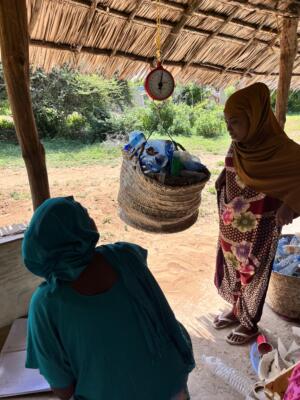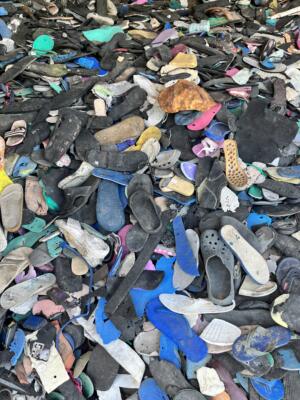 Later in the day Amina took us on a tour around the village. I was surprised to see how clean the village was. Normally, as you walk around villages in Lamu and Kenya more widely, there will be rubbish on the floor, dumped in abandoned buildings and in the bush. But here, there was nothing like that. The area was so clean!  
We walked through the bush and shamba (farms) to see the KWS camp where they track all the turtle nests that are reported by the community. In 2022, only 36 turtle nests were reported throughout the whole year. This year already 69 nests had been reported to KWS, though Amina said the number was actually 71 as some nests had been reported to her but not to KWS. 
Amina and the KWS rangers believe that the cleaner beaches have played a large part in increasing the number of turtle nests. Turtles generally nest on sandy beaches, but plastic debris can obstruct beaches, making it difficult for turtles to find suitable spots for nesting or discourage female turtles from laying eggs altogether forcing them to choose locations that aren't as suitable. But by keeping the beaches clean the BM team and Mkokoni community have made their beaches safe for turtles to come back and nest.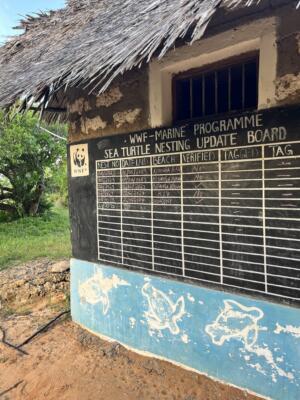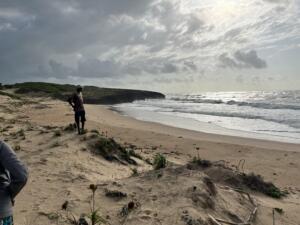 The following day, we crossed the channel to Kiwayu Island to visit another beach where BM do cleanups in the Kaskazi season (October to March) when the beach is accessible by boat. We climbed the little mlima (mountain) of Kiwayu guided by Haji who works for Kiwayu Safari Village (another supporter of Bahari Moja) who also volunteers scouting for turtle nesting sites. The walk was beautiful, as we reached the summit you could hear the power of the ocean below. We walked down the other side, through bush and coral rocks to find abandoned cliffs and beaches stretching as far as the eye could see. 
Haji showed us to where a turtle had laid a nest just the night before (number 72 for 2023!), how they mark past nesting sites with sticks and some egg debris that had been left from the last few hatchings. Due to its remote location, the community are unable to support the turtle hatchings so we can never know how many turtles hatch from here. But Haji still does his best to keep the beach clean. Even there, we saw a small pile of full gunia from when he does small yet regular clean ups.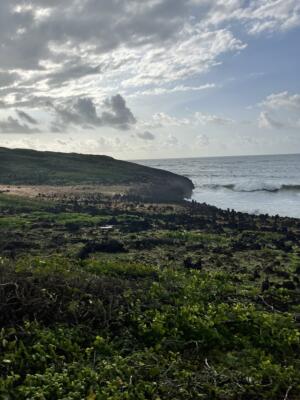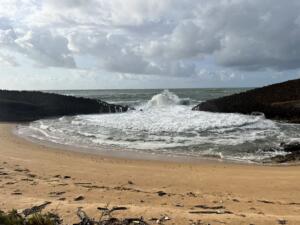 And that concluded our visit to Bahari Moja! We headed back to Amu Island on a very bumpy boat ride wishing and hoping that we could instil the kind of environmental pride and ownership that the community of Mkokoni have.  
According to Amina, this care has been encouraged since they were young. The elders of the community knew that without a healthy ocean, they would be unable to survive. There would be no work, no food, and no way to provide for their families. So, they took it upon themselves to care for their ocean in any way they could seeing this effort as part of their jobs as fishermen. Because whatever they put into the ocean, the ocean will give back – the good and the bad. 
Watch this space as we continue to work with Bahari Moja and find innovative ways to bring this passion to the wider Lamu community to protect Lamu county now and for the future.