Grants
Land Regeneration and Restoration
'2 Trees 1 Family' Climate Resilience Package
KES 1,243,000 awarded
Project Length – 3 Months
Problem Statement
The 2021 rainy season was insufficient on Coastal Kenya, followed by water shortages, rising ground temperatures, increasing desertification, crop failure and drought and wells beginning to turn saline. Therefore, there is an urgent need to increase tree cover and groundcover to create microclimates, and through the transpiration of leaves, attract more rainfall, and reduce ground temperature.
There is little food sovereignty on Lamu, most food is imported from other regions resulting in inflated food prices, and dependency on fossil fuels to bring in food daily. This makes the island extremely vulnerable to food and fuel shortages, interruptions of supplies from the mainland, and increases in fuel prices directly impacts the island's ability to purchase food. This was keenly experienced in the past during post-election chaos, COVID-19 lockdowns, terrorist attacks and times of fuel shortages.
Emissions are rising globally and locally so more CO2 needs to be sequestered. With increased tree planting and ground cover with the use of biochar, we can provide tools to absorb more net carbon from the atmosphere. In addition to this, growing food locally means a reduction in fossil fuel emissions, from the decreased need to transport food from the mainland. 
Project Summary
This project will promote the Permaculture approach to life, (People Care and Earth Care), with a focus on building sustainable communities and giving easily accessible teachings on the reusing of household waste, urine and grey water.  
Trees will be planted where appropriate, (fruit trees of choice and Moringa trees) together with a Permaculture Home Garden (PHG) that consists of a vegetable plot in a secured planting area in each participating family's compound or according to available space.
Other innovative methods will be applied where there is a lack of space or in an urban setting, including balcony gardens, container gardens, and vertical gardens.
Families will be taught how to create a fertile manure and taught how recycling organic matter for compost can be extremely beneficial. There will be a focus on training, empowering, mentoring, community, team building, and follow-up are central features of the sustainability of this project.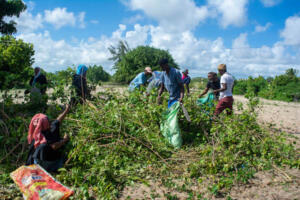 Local Permaculture Community Trainers (PCT) that have been trained in previous projects will be employed to work closely with communities. Each PCT will be deeply involved with them from start to finish, building trust, and creating a working relationship with each of their participating households. PCTs will empower the community by teaching permaculture techniques, such as home gardening, seed saving, soil building, the importance of organic vegetables and indigenous foods in the diet, the practices of mulching, the fertilizing value of kitchen waste and urine (could be human or from animals such as rabbits), the importance of recycling water, natural pest control and the benefits of companion planting and forest gardening. There will be small and friendly team competitions for best practices, to encourage community building and continued interest in the home gardens. We will also endeavour to organise some experience sharing between participants in the different locations on the island. 
Objectives
There are multiple goals for the project including; 
Increasing biodiversity

 

Promoting regenerative land use

 

Promoting recycling and reusing of waste

 

Training on the sustainable use of resources such as reducing farm inputs, planting crop varieties for both optimum land use, utilisation of natural farming methods which reduce investment in labour while ensuring long term benefits.

 
Specific Outcomes
50 families will be given training on the basics of permaculture and each will create their own permaculture gardens. 
About the Organisation
Collective Sovereignty Community-Based Organisation (CSCBO) was registered on Lamu Island on 2021, and is mandated to work within the whole of Lamu County. CSCBO works in many areas focused supporting people's passions, including women's empowerment, youth empowerment, environmental conservation, and regeneration, home and community gardening, food sovereignty, natural health, waste management and recycling, creative arts/music and sports and wellness.  
In 2022 we successfully completed the first phase of this '2 trees, 1 Family' project, as a Food Sovereignty initiative. Whereby, a total of 130 trees were planted, 65 home gardens were set up, creating increased ground cover and reducing air temperature, 12 local young people were trained as Permaculture Community Trainers and received part time income, waste and grey water from 65 homes was reused and many families benefited from the project as more food was produced to feed their families, communities were encouraged to experience share and build, throughout the project in general and then specifically in the Harvest Celebration and Competition.