Grants
Continuing Education and Sustainable Livelihoods
Fighting for an Environmental Budget in Lamu County
KES 1,698,500 awarded
Project Length – 6 months
Problem Statement
Lamu is at the forefront of climate change due to its location close to the equator with 130km of coastline. Within the county are vital ecosystems such as mangrove forests, coral reefs and terrestrial forest. However, these are all under threat as global heating continues. The people and environments of Lamu County will be the first to feel its affects such as rising sea levels, increasing heat, decreasing rains and increased pollution. Therefore, much needs to be done within the county to mitigate these affects while doing what we can to protect, preserve and restore the ecosystems we already have. 
Lamu will be one of the first victims of global heating due to the historical and continued use of fossil fuels. While this challenge is beyond the scope of this issue, we can work to ensure the funds allocated by law to environmental projects and climate change mitigation are in fact being spent where they are supposed to.
According to Kenyan law (Public Finance Management Act, 2012) each county should allocate spending to environmental projects. This faculty is devolved to a county and MP level for projects to be budgeted and allocated for. However, upon historical budgetary analysis we have seen that there has not been a single environmental project implemented from this fund. Instead, the money is reallocated throughout the year to other projects.
In the 2023-2024 budget the county has allocated KES 108,644,051 to the offices who are responsible for spending the environmental budget however, this is not enough to cover the costs of the large-scale environmental issues Lamu County are facing. This figure is also likely to be reallocated throughout the course of the year.
To address the issues FYAG wants to create a network of environmental actors at all levels of the community to advocate for the environment and lobby the government to take these climate issues seriously to use their budgets to mitigate the significant risks of climate change while benefiting communities through more investment and sustainable industry creation. 
Project Summary
A part of the project FYAG will conduct stakeholders meetings to have buy in from key decision makers to pave way for the program and including those who should be aware of the program even if they are not directly in it. Invitees will include representatives from different county and national government institutions and include CSOs, KEFRI, KFS, KWS, NEMA, municipality departments, judiciary, police and ministry of interior. As the project progresses these meetings will be a space where participants can explore areas of synergy and collaboration towards the realisation of ensuring environmental projects will be implemented at the county level. As part of this round table discussions will also be held to discuss on crucial matters affecting environment within the county.
Training of Environmental Justice Actors (EJA) to increase their knowledge and understanding on matters related to environmental protection, policies and regulations. The selected youths from different wards will be trained on environmental laws and regulations such as The Environmental Management and Coordination (EMCA) Acts, Environmental Impact Regulations (EIA) and Environmental Audit (EA) regulations. The environmental justice actors will also be trained on the budget process to ensure meaningful public participation at the ward level, the team will also be sharing reports on the progress of implementation of environmental projects and share reports on environmental concerns.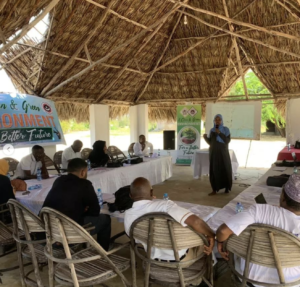 Community Meetings will be held, public participatory research is the source of projects for the county government. FYAG will rally the community to advocate for environmental projects to be incorporated in the budget, the community members will be given some knowledge on the budget process to come up with environmental projects. With more knowledge surrounding what the county should be doing for them, the community will be more able to hold them to account if they do not follow through in their role or deliver what has been promised. FYAG will also support in strengthening of members of community organisations on the positives of protecting our environment so they can also advocate for more environmental protection at the ward level. Furthermore, faith based and community influencers will be utilized to sensitise the community on the need for environmental protection in society.
EJAs will map out the most affected villages by environmental pollution and select influencers from such villages to impart them with knowledge and skills of enhancing sustainable environment. Through empowering community members, they will be able to act as environmental champions who will in turn impart the knowledge on the large public and at the same time bring different stakeholders to account for their roles in safeguarding the environment. 
Objectives
Faza Youth have three objectives for this project: 
Ensure that there is proper allocation for environmental projects in county budgets.

 

Ensure that there is community participation in the design and suggestion of environmental projects.

 

Ensure there is no reallocation of funding to other projects.

 
About the Organisation
FAZA YOUTH ACTION GROUP (FYAG) is a frontline human rights community based, independent, non-partisan group registered in 2010. FYAG aims to take an active role in defending, safeguarding social development and implementing relevant educational and youths programs that promote healthy lifestyles to the individuals, families and communities in marginalized areas who are debased and lack freedom.  
The organization works towards ensuring provision, protection and participation of community in economic and social rights and has undertaken prjects with the EU, LEF, URAIA Trust and FCDO in the past.