Fanya Safi Waste Coalition – Project Update
Since November 2021, over 17 tonnes of plastic have been collected by the Fanya Safi Waste Coalition.  
These collections have comprised of household collections from Shela Environmental Residents Group and Manda Taka Project and community 'Okota Plastiki' collections run by Takataka Heroes. The group projected that in 6 months, they would collect 25 tonnes of plastic – as they are only halfway through the proposed project timeframe we can expect they will far exceed that target! 
An area of the collections that have proven particularly popular is the community 'Okota Plastiki' collections. Here communities are asked to collect plastics that will be bought by Takataka Heroes, thus creating supplementary income for those that take part. This method of collection alone has amassed 15 tonnes of plastics.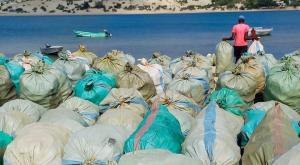 The groups have also been busy making improvements to their sorting sites. Manda Taka Project, have been able to fence their property to prevent waste plastics from continuing to litter the environment. They have also built segregation zones to assist them in pre-sorting the plastics to send to Takataka Heroes. While Takataka Heroes have begun building their washing area for shredded plastics. The group have decided to create a higher spec washing area than previously budgeted for with a higher-tech water filtration system to recycle as much water as possible which has led to a delay and has also meant that Takataka Heroes partners The Flipflopi Project are also contributing towards the washing area. 
The coalition has also helped groups to connect and share knowledge that has led to more holistic waste collection and a greater sense of teamwork – this has especially helped in discussions with county officials who are becoming more amenable to working more with the coalition. 
However, there have been some challenges. The logistics and costs of transporting plastics to the Takataka Heroes depot over land are proving a challenge. However, the groups are liaising with the county and have promised the use of their tractor moving forward.  
A further issue has been the amount of PET (plastic bottles) collected. The groups estimate that about 12 tonnes of the plastic collected is PET. This has highlighted 2 issues  
Something needs to be done to reduce the use of plastic bottles within the community and

 
a better solution must be created to manage the discarded waste bottles.

 
PET is very difficult to recycle. In the original application, the coalition had said it would be shredded by Takataka Heroes. However, that has proved massively cost and time inefficient. Instead, the coalition is looking into the use of manual bailers for each group so they can bail plastics on-site and make it easier and more cost-effective for transportation and onward sale. As this was not in the original budget, the group are looking into finding alternative funding for a total of 5 bailers at a total of £2500. 
These first 3 months of the project have proven to be successful in terms of the amount of plastic collected. While the coalition is still working out specific challenges, we are humbled that they are set to collect more plastic than previously targeted.