SAVE LAMU BEEKEEPING – END OF YEAR UPDATE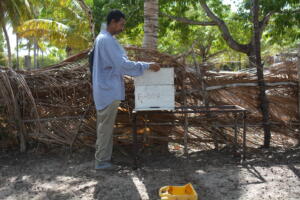 New almost one year into the project, we want to share the progress they have made.
BEGINERS BEEKEPING PROGRAM
7 groups were enrolled to take part in the beekeeping program. The beneficiaries received hives, beekeeping training and hive management. As of the end of November, we now have 28 beehives, 11 colonies.
GRASSROOT BEEKEPING PROGRAM
2 groups participated in the beekeeping program. There is now only one participant in this program, Salim. He started with 5 old hives and bought 3 new ones as part of the project. We now have 2 colonies.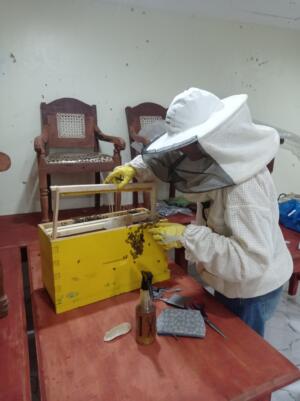 BEE RESCUE
Over the year, there have been new colonies rescued including 4 colonies in October and 2 colonies in November, one natural colonisation in Matondoni and at least 4 colonies that have absconded, including two colonies from the rescued colonies in October.
Save Lamu has established a transit apiary at Wiyoni for rescued colonies and we now have 2 rescued colonies in the transit. In one of the colonies, the queen died, and the bees had to be sent to the transit apiary to merge with one of the rescued colonies.
In October 2022, there was a theft incident at one of the apiaries in Kisisi. 3 colonies were destroyed. All the honey was stolen before it matured and left behind the beeswax. The group managed to save one of the destroyed colonies. Security measures were taken into consideration. All the participating groups were advised to keep and train a shamba boy in their apiaries, to improve communication between the members f the group and shamba boy, put a fence and a gate to their apiaries.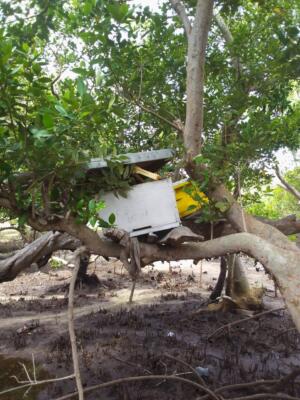 Conclusion
So far SAVE LAMU are confident in the success of their project. Selling of honey could be expected to happen in May. Participating groups will be trained on bee harvesting and marketing next year. Following up with the theft incident, SAVE LAMU plans to train the groups on processing beeswax to make body balms and soaps. The project is looking forward to year 2 and new enrolment of beekeeping groups in Pate islands.
SAVE LAMU acquired fundings from Seacology for mobile harvesting kit which will be shared among the 8 participating groups. They are now looking forward to having their own boat which will cut down transportation costs to the apiaries.