An Update on Permaculture on Lamu Island
Earth Love LTD and Collective Sovereignty CBO have been working on Lamu Island since 2019 when they established a regenerative fruit and food forest on one acre of land that had been used as an informal dumpsite. They regenerated the land to now  demonstrate permaculture and regenerative farming practices during multiple practical permaculture courses  – two of which were funded by Lamu Environment Foundation in May 2022.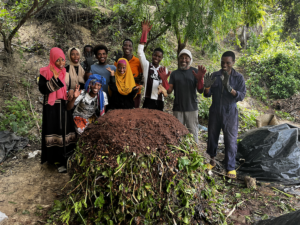 The project trained 17 local participants recruited from across Lamu Island. The aims of the project were to increase food security, increase self-reliance, mitigate climate change, sequester carbon emissions, and increase nutrition through training local communities in permaculture practices. At the end of the project, there was a competition among the participants to see who could create the best garden using their new knowledge to encourage participants to apply their practical knowledge immediately. The winners received a stipend of Kes 6000 ($50) and tree seedlings to start their own home gardens while participants with nice home gardens received Kes 2000 ($15) for effort.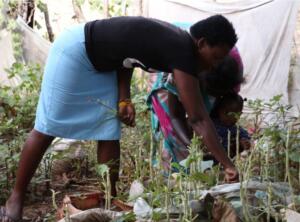 Progress After the Permaculture Design Course
Inspired from the success of the permaculture course and the need to continue mitigating climate change, Earth Love designed a Food Sovereignty Tree Planting and Home Gardening project. The project trained 7 participants previously trained to be certified Community Trainers so they could pass on their knowledge to the wider community. From this, 65 families created permaculture-based food sovereignty home gardens were established throughout the island over three months. Each home garden was approximately two metres squared and included a moringa tree a fruit tree and a nutritious mixture of indigenous vegetable seedlings.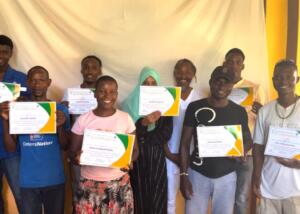 Next Steps
Earth Love and Collective Sovereignty are working on creating two new projects to garner more awareness about permaculture and the positive environmental and community benefits.  
The first project will be to make their permaculture course 'mobile' so they can reach more people across the county. This mobile course will mean that participants won't have to travel to their farm in Shela on Lamu Island, which can save on costs and transportation.  
The second project has come about dueOwing to the enthusiasm and requests from more communities in Lamu to be a part of this initiative, Earth Love seeks more funding to establish 75 more home gardens throughout the island.
With this phase of the project, Earth Love aims to mitigate climate change through  
Increased tree cover and biodiversity,

 

Attract more rainfall to the island of Lamu, create

 

food sovereignty among communities by creating home gardens with planta high in nutritional content

 

Further training of

youth to

generate part time employment

 

providing  them with more skills and experience through

 

implementing more gardens.

 
Through projects such as these Lamu Environment Foundation aims to create long-lasting impact across Lamu County. By providing education and training in environmentally sustainable income–generating activities, we believe that we can support the creation of more climate–resilient communities. We are also humbled to see how through the training of just 17 individuals Earth Love and Collective Sovereignty have been able to raise awareness of the many benefits of permaculture farming to over 120 people.