Save Lamu's Beekeeping – Project Update
In January 2022, Save Lamu began their new project: Beekeeping to Enhance Ecosystem Restoration & Livelihoods in Lamu Archipelago's Mangrove Communities. The aim of the project is to protect Lamu Archipelago's mangrove forests while enhancing the livelihoods of mangrove dependent communities by introducing beekeeping as an alternative source of income.
The project began with an extensive search for participants from across Lamu Island (the project is looking to expand further into the archipelago in year 2). Potential groups completed an application process to show that they had the means, desire and ability to complete the 3-year training program.
Save Lamu were looking to recruit groups into two different training programmes: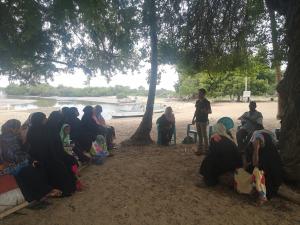 Beginner Beekeeping Program
This program enrols groups who are new to beekeeping but have experience in mangrove management and restoration. Throughout the 3-year program, the group will be regularly supported by beekeeping experts. Specifically, they will receive harvesting, value-addition, packaging, marketing and business and financial skills training.
Grassroots Beekeeping Program
This program aims to identify, develop, and build on the capacity of existing beekeepers within Lamu Archipelago. They aim to do this by providing them with extra training on beekeeping and business management.
Nine groups have been enrolled to take part in the beekeeping programmes with 109 total beneficiaries. 72% of which are female.
After the groups were enrolled, the training began. This month, Save Lamu worked with the Beginner Beekeeping groups providing education on bee behaviour, colony management and managing pests among other topics. The groups were also able to get hands on training on dealing by learning how to light smokers and inspect beehives up close.
Meanwhile, training and support began for Grassroots Beekeepers for the formulation of their business plans and budgets for apiary support.
Save Lamu were also working to procure hives and other beekeeping equipment for the enrolled groups.
Hives were delivered to the groups in early April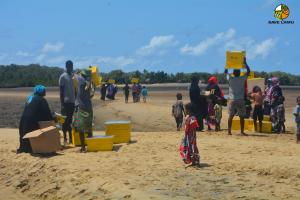 And the first bees arrived shortly thereafter…