Introducing the LEF Advisory Board
On the 16th November, we held the first meeting of the LEF Advisory Board. The advisory board was created to ensure all concerns of Lamu are represented. We also wanted to ensure all solutions sought to mitigate environmental challenges are in the best interest of the environment. 
The LEF Advisory Board is made up of representatives from Kenya Wildlife Service (KWS), Kenya Forest Service (KFS), Kenya Fisheries (KF), Kenya Forestry Research Institute (KEFRI), youth representatives from across the county thanks to Lamu Youth Assembly (LYA) and a representative from the environmental office of Lamu County Government (LCG). 
By drawing on local knowledge, expertise, experience and connections the advisory board ensures that the solutions put forward by local organisations can and will work for Lamu. The advisory board also offers the opportunity for collaboration by bringing institutions together and connecting with the local organisations working within their areas.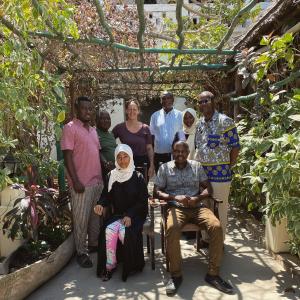 Discussing the areas of concern
Each of the areas of concern were discussed in-depth and challenges that were initially overlooked were expanded upon.  
Solid Waste Management
Komu from Kenya Fisheries was specifically concerned about the amount of plastic pollution around Lamu Archipelago. He said this plastic pollution was particularly harmful to fish and is severely affecting the capacity of local fishermen. 
Youth representatives from LYA expressed concerns about plastic pollution littering areas inland areas and tidal areas citing that community awareness was of particular concern when it came to this challenge. 
The group were encouraged by grants already awarded to local organisations and will look for further ways to support. 
Mangrove Restoration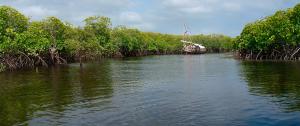 Mwangi from KFS expressed that though there is a lot of work within mangrove restoration and conservation, there is a lack of cohesion between different groups. This disconnection means that there is scope for more collaboration between groups to ensure maximum efficiency. 
Mwangi was further concerned about the lack of awareness within the community about how mangroves grow. A particular concern was that many people believe mangrove seedlings are able to plant themselves so they do not need to worry about replantation. However, this is not true and as long as mangrove forests continue to be deforested, mangrove seedlings need to be replanted.  
Komu from KF and John from KEFRI also expressed the need to continue protecting mangrove forests as areas of specific importance for fish breeding and nursery grounds. 
Land Reforestation and Restoration
Of key importance within this area of concern is the need for accessible freshwater. Lamu archipelago is experiencing a drought and the lack of water is cause for serious concern. Mwabita from KWS was particularly concerned about the potential mismanagement of the Shela dunes and the risk for contamination by poor wastewater management. 
A further challenge within Lamu County is that many farmers are not necessarily utilising the land they have at their disposal effectively. Many farmers are focused on monocultures and are using excessive fertilisers and chemicals which is taking their toll on the land. However, with better farming models, education and the setting up of farming cooperatives, farmers can learn how best to use their land while also exploring and connecting with far-reaching markets to improve their income. 
Mwangi from KFS is also concerned about the low levels of reforestation and the hyper-focus on tree-planting rather than tree-growing. Many people are participating in drives to plant trees but are not concerned about the continual growth of said trees. To improve on this, more education must be given on how to grow trees effectively and why it's so important for sustainability. 
Marine Conservation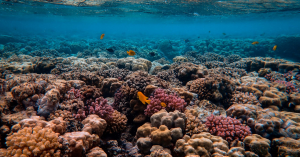 Unsustainable fishing practices and the degradation of marine environments were of key concern across the board. 
With regards to unsustainable fishing practices, the consensus was that many communities are not empowered with the ability to undertake more sustainable fishing practices. Komu from fisheries wants to encourage fishers to move away from shallow, inland fishing sites where young fish are often caught and move out towards the open waters. This view was also echoed by KFS.  
A further area of concern was the use of illegal fishing gears. However, with such widespread use, fishers need to be educated as to the importance of using legal gears and offered the opportunities to swap these gears.  
John from KEFRI and Komu from fisheries also expressed the need to focus on the restoration of underwater habitats such as seagrasses, salt marshes and corals. By restoring the resources that were once bountiful in Lamu we can improve resources and ensure these are managed better. To improve these areas, seaweed, seagrass and coral farming should be encouraged. 
Continuing Education and Providing Sustainable Livelihoods
Throughout the discussion lack of community awareness of educational issues and the low standards of living within the archipelago continued to come up as a serious challenge for the archipelago. 
LYA were keen to discuss the role of environmental clubs in schools as key ways to engage youth in learning and caring more about their environment while new ways to educate adults were discussed such as using the arts. The key challenge here being that how can we get people to care and change their behaviours if they don't know why they should. 
Further to this, many in Lamu are living in poverty and as Mwabita from KFS rightly stated 'poverty is the environments greatest threat.' With this in mind, more focus must be on income-generating activities that can help to protect and restore the environments instead of taking from them. 
Some of the activities suggested are as follows: 
Beekeeping

 

Crab farming

 

Creation of snake parks

 

Bolstering ecotourism

 

Seaweed and bivalve farming

 

Building capacity of existing industries such as creating small scale fish processing sites and connecting fishermen to national markets and creating farmers cooperatives to pool resources, crops and knowledge to access better prices for their goods.

 
Further to these activities, entrepreneurship training should be offered to assist individuals with the necessary skillset and mindset for identifying and launching new business ventures that would be suitable for a Lamu market.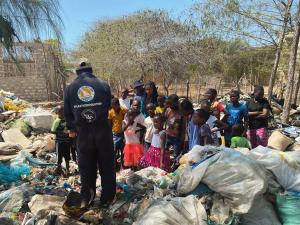 Next Steps