Grants
Mangrove Conservation
Crab Farming in Faza Ward
£8500 awarded
Project Length – 5 months
Problem Statement
Lamu archipelago is the only place in Kenya where mangrove cutting is still licensed and is a vital source of income for many communities. Mangroves are widely used as a building material, firewood and charcoal making. While there is a limit on how many mangroves can be cut, much illegal cutting continues to happen. This has led to many mangrove forests becoming depleted.
Poor solid waste management also compounds this issue as the forests that remain are becoming choked with plastic and solid waste pollution. This leads to mangrove degradation as seedlings are unable to survive and mangroves are buried under waste.
These issues combined, have led to a degradation of natural crab habitats leading to a decrease in biodiversity and crab fishers travelling further to catch crabs. This has caused a decline in the numbers of crab fishers causing more people to turn to other more unsustainable income-generating activities while habitats continue to be degraded.
Project Summary
This project intends to engage communities to stop doing mangrove degrading activities by presenting the alternative income-generating activities of crab farming. This offers communities the opportunity to earn a living while protecting the mangroves. Two places will be identified for farming that will then be cleaned and maintained by the community to ensure it remains free from plastics and other waste as well as ensuring the area is not harvested for wood either.
To undertake the project FYAG will receive training from organisations and institutions working on crab farming. Suitable markets for the crabs harvested by the community will be identified among hoteliers in Lamu.
The organization will also advocate placing the mangroves on its county priority agenda in an important effort to sustainably manage this ecosystem and achieve national climate commitment. The project is intending to bring synergy among different stakeholders of the environment by offering training at different levels.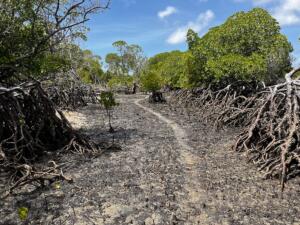 Objectives
Empower the community to protect their mangrove forests through the creation of a sustainable income-generating activity.
Specific Outcomes
Establish two crab farming locations.
Offer livelihood training to women and youths from the mangrove dependent community.
Ensure access to markets for crabs harvested from the mangroves.
Encourage stronger inter agency coordination at the local level and strengthen government and CSOs cooperation on environmental matters.
Protect the local environment in the selected village sites through reforestation of mangroves in the degraded areas.
Protect inland vegetation against salinization by acting as a ground water pump to prevent the incursion of the saline ground water into the freshwater aquifer.
About the organisation
FYAG is a frontline human rights community based, independent, non-partisan group registered as a CBO in 2010. The core aims of FYAG is to take an active role in defending and safeguarding social Development. To do this FYAG implement educational programs that promote healthy lifestyles to the individuals, families and communities in marginalized areas who are debased and lack freedom. The organization works towards ensuring provision, protection and participation of community in economic and social rights.