Lamu Environmental Stakeholder Meeting Report
On the 6th of October, Lamu Environment Foundation (LEF) hosted a meeting to bring together local environmental actors to discuss past, present, and future conservation projects that would be suitable to fund across Lamu County.  
In attendance were representatives from over 20 community-based organisations and government institutions including Lamu County Government, Kenya Forest Service, Kenya Forestry Research Institute, Lamu Water and Sewerage Company, and Lamu Municipality. 
The meeting was opened with introductions and an explanation of who LEF are, the work we do, and the kind of work we would like to support. A key part here was to discuss LEF's grant criteria to give groups an idea of what it takes to create a complete project proposal to show to LEF.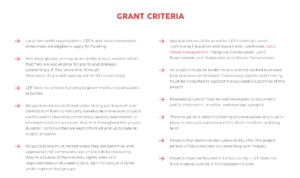 We briefly went through the thematic areas that LEF funds, further explaining how all projects supported must demonstrate community engagement, capacity building, and an educational or alternative livelihood aspect to ensure the sustainability of projects and ensure that the root causes of Lamu's environmental degradation are properly addressed. 
LEF's thematic areas were then discussed one by one with presentations from previous grantees and group discussions to brainstorm future projects bearing in mind LEF's grant criteria. The attendees were split into groups and each group presented their idea and took questions from the group. Here are the suggested projects from each thematic area. 
Mangrove Conservation
Mangrove Restoration

–

a project to restore degraded mangroves in Lamu through large replanting efforts and reduction of human activities that degrade mangroves such as charcoal creation and cutting for building.

 

Ocean Plastic Reduction

–

a project to reduce the amount of waste that flows into the ocean to significantly reduce the number of mangroves that are smothered and degraded due to plastic waste.

 

Creation of Eco-Tourism Opportunities in the Mangroves

–

a project that will restore mangrove forests by creating tourism opportunities in the mangroves to generate income from the tourism industry to further conserve mangrove forests.

 
Solid Waste Management
Plastic Reduction

–

a project focusing on addressing the root causes of plastic waste by encouraging businesses and households to reduce their overall plastic consumption – after all reduction is far better than recycling.

 

Biogas Plant

–

a project to install a biogas plant that uses organic waste to create cooking gas for households. This would reduce the pressure on traditional unsustainable fuels such as LPG, charcoal, and wood and create new jobs.

 

Plastic Recycling

–

a project to promote plastic recycling through collections, awareness raising, and selling of plastics. This project would create job opportunities and raise awareness about the harms of poor waste management.

 

Tenganisha Takataka Jioni (Separate Waste at Home)

– this project aims to encourage communities to sort their waste at home to reduce the amount of waste that is dumped, improve recycling and raise awareness of the harms of poor waste management.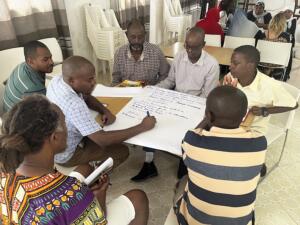 Marine Conservation
Rethinking Fishing

– a project to reduce the use of illegal fishing gear and unsustainable practices and protect corals through education and community sensitisation.

 

Crab Farming and Fattening

–

a project to reduce pressure on fish stocks in shallow waters, improve mangrove ecosystems and reduce waste in mangroves and provide a sustainable income for communities.

 

Coral Conservation at Kiweni

–

restore the coral reef at Kiweni/Manda Toto through restoration programs, community sensitisation, and creating more robust practices around the use of the reef by the tourism industry.

 
Land Regeneration and Restoration
Kitchen Gardens

–

a project to encourage more small-scale farming to improve green cover on the islands, reduction of plastic waste as much will be recycled, and proper use of organic waste. This project will also support communities to reduce their cost of living and give them better access to nutritional foods.

 

Managed Grazing Corridors

–

a project to restore land through tree planting and increased green cover, reduce conflicts between pastoralists and farmers and encourage more informed community-led land management policies.

 

Restoration of Dumping Sites

–

a project to restore dumpsites into shared community and recreational areas.

Reforestation

–

a project to increase tree cover to prevent soil erosion, encourage more rainfall, and increase food security. 

 
Through encouraging collaboration and knowledge sharing, the groups were able to come up with innovative projects that can address complex environmental issues. 
It is hoped that through this activity, groups will be more inclined to work together when developing conservation projects as well as think about how the project can be sustainable after the project duration is over. LEF believes these two factors are key to creating strong networks of conservation champions and creating lasting change in Lamu. 
The final phase of the meeting was to take the organisations through the new online application process to ensure groups are as prepared as possible to submit new project proposals! All the attendees were encouraged to work together and apply for funding. 
LEF would also like to thank the following organisations for presenting their projects: 
We are currently open for applications until April 9th 2023.
Apply here
.