1% For The Planet Partnership
We're excited to announce our new partnership with 1% For The Planet.
You might have heard of them or seen their logo on some of your favourite brands and environmental organisations, so now we're taking the time to explain why Lamu Environment Foundation is so excited to announce their 1% for the Planet partnership!
What is 1% For The Planet
1% for the Planet was founded in 2002 with the simple idea of helping companies give back to the earth that they benefit and profit from. Their aim is to bring the world together for the planet and inspire commitment and action so that our planet and future generations thrive. It is now a global movement inspiring businesses and individuals to support environmental solutions through annual membership and everyday actions.
Since 2004, the idea has grown and resonated worldwide. Today 1% For The Planet boasts business partnerships with some of the largest brands including; Patagonia, Klean Kanteen and Caudalie.
1% for the Planet connects their business members with their carefully vetted environmental partners to fund smart environmental giving in our six core issue areas: climate, food, land, pollution, water and wildlife.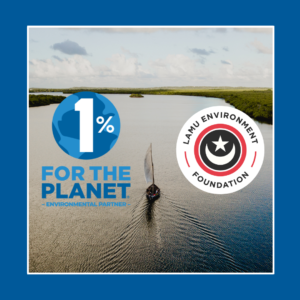 1% For The Planet Impact
Since its founding, 1% for the Planet members have given more than $250 million to Environmental Partners. Today, 1% for the Planet is a network of more than 3,000 business members, a new and expanding core of individual members and thousands of Environmental Partners in more than 90 countries.
How You Can Get Involved
As a business – you can join 1% for the Planet and commit to giving 1% of gross sales each year, whether overall or from a single product line to the approved non-profit partners of your choosing – make sure you include Lamu Environment Foundation!
Plus, this spirit of giving might even help your business… 66% of people (and 73% of Millennials) say they're willing to pay more for products and services from companies committed to positive social and environmental impact according to a 2015 Nielsen Global Sustainability Report.
You can learn more about 1% for the Planet business membership here.
As an individual – you can support 1% for the planet and the environment by being a conscious consumer. For instance, think about the lifecycle of the items, where were the products made, what resources went into them, what impacts might their production has had on the environment, and what will happen when these products reach their end of life.
You can also choose to buy from brands that are 1% for the Planet members. See the directory here.
So be sure to do your part, together we can make a difference and preserve the world we love for the future of us all!