Save Lamu Beekeeping Year Two – Project Update
It's been a year since the launch of the Beekeeping to Enhance Ecosystem Restoration & Livelihoods in Lamu Archipelago's Mangrove Communities Project implemented by Save Lamu, and we' are excited to share the progress we've made in the first year.  
The aim of the project is to Build a sustainable, locally governed community of beekeeping businesses in Lamu Archipelago and Restore degraded mangrove ecosystems in Lamu Archipelago, actively with reforestation and passively through the increase of bee pollination. 
 In the first year 8 groups on Amu Island 105 beneficiaries, of which 75% were females. The groups were trained in beekeeping techniques, including hive construction, bee colony management, and honey harvesting. The training aimed to ensure that the beekeepers have the necessary skills to start their apiaries, increase their honey yields, and maximize profits. A further component to the project was that the beekeepers received equipment and materials, including beekeeping suits, gloves, and hives to start their apiaries.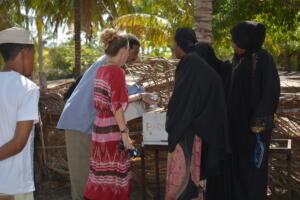 What's New In Year Two
As we start the second year of the project, five more groups, two from Pate Island and three from Amu Island will be supported and trained in beekeeping. This will increase the number of beneficiaries to 209, of which 75% will be females. The new groups will receive the same training and support as the first groups, including equipment and materials.
To cement the success of the project all beekeepers are forming a cooperative which will provide a platform for knowledge and equipment sharing, value addition, marketing, and acces to wider markets beyond Lamu. This will help the groups to maximize profits and ensure the project's long-term success.
After taking part in the Mangrove Training Save Lamu is applying their new found knowledge to their conservation projects by involving local communities and creating robust monitoring and evaluation plans aligned with MAP's COMMUNITY BASED ECOLOGICAL MANGROVE RESTORATION STRATEGIES. By doing following this protocol, they hope to achieve sustainable and effective conservation outcomes while making a meaningful contribution to the protection of mangrove ecosystems in their communities.
Conclusion
We're proud of the progress made so far, and we believe that with continued support and collaboration from our partners, the Beekeeping to Enhance Ecosystem Restoration & Livelihoods in Lamu Archipelago's Mangrove Communities Project will continue to have a positive impact on the local communities and the environment.
In the last 2 weeks, Save Lamu have begun harvesting honey from the Year One participants, so we hope to share the locations where you can buy Asali Ya Lamu very soon!