Save Lamu Beekeeping Quarterly Update
In February 2022, SAVE LAMU started their Beekeeping project. The project aimed to Build a sustainable, locally governed community of beekeeping businesses in Lamu Archipelago and Restore degraded mangrove ecosystems in Lamu Archipelago, actively with reforestation and passively through the increase of bee pollination. 
We're excited to share the progress made so far in the second year of the project. 
Overview of Activities
On March 2023, 9 new groups were recruited and trained on beekeeping at Kizingitini. After the training beehouses were constructed and start up kits distributed. Additionally, Save Lamu continued training the groups in accounting and management to capacity buildthem become more independent after the project has ended.   
Seacology donated a harvesting kit to the project which is shared by all groups taking part in the project. These kits includes a centrifuge machine, honey press machine, buckets, refractometer, honey sieves, uncapping trays and other small equipment's. A week later the kit was put into use in Kipungani for Harvesting training of Mabruk Women group.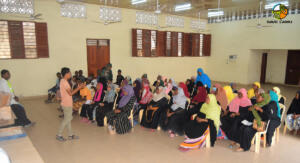 In addition, the groups were shown how to package and label the honey and processing the wax remaining after uncapping. They were then shown how to make  value-added products such as lotions, and other beauty products from the remaining beeswax and propolis. 
On the 20th of May, Save Lamu organised a Bee exhibition to market and commemorate World Bee Day. The exhibition created high interest from the local community in beekeeping and many also bought honey and the other products. 
Several technical meetings were held with Mangrove Action Project to develop a mangrove degradation assessment plan which will help to plan and allocate mangrove restoration plans. One site near Kipungani has been assigned to be assessed first. The first data collection has been conducted during the full moon in June.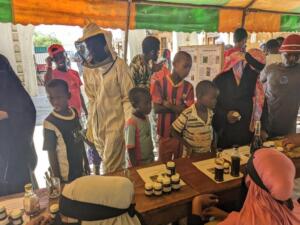 Conclusion 
This project is continuing to make significant progress establishing a sustainable community of beekeeping businesses across Lamu as well as restoring degraded mangroves in Lamu Archipelago. 
Looking ahead, the project is continuing to support the beekeepers with ongoing training and guidance, encouraging more independence and creating sustainable and harmonious future of partnerships and collaboration in Lamu Archipelago. Through community engagement and environmental stewardship, we can continue to build a thriving beekeeping community and contribute to the preservation of valuable ecosystems. 
You can help support our work… DONATE today!